Episodes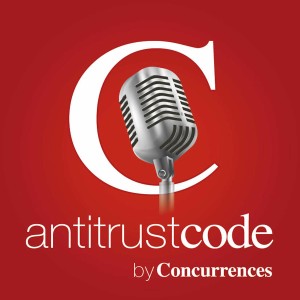 Tuesday Aug 31, 2021
Tuesday Aug 31, 2021
Concurrences has launched a special series dedicated to foreign direct investment, as part of the "Antitrust Code" Podcast. The podcast series aims to decode antitrust law and policy. Our guests discuss the latest news and topical issues in competition law and economics around the world.
In this new episode of the series, Damien Levie (Head of Unit - Technology and Security, FDI Screening) and Paul Johnson (Partner, Baker Mckenzie) are interviewed by Samantha Mobley (Partner, Baker McKenzie) on Foreign Investment Screening at the European Union level.
Find more information here: Frequently asked questions on Regulation (EU) 2019/452 establishing a framework for the screening of foreign direct investments into the Union, 22 June 2021: http://trade.ec.europa.eu/doclib/docs/2019/june/tradoc_157945.pdf
Video available on Concurrences Youtube channel
Follow us on Twitter @CompetitionLaws and join the Concurrences page on Linkedin to receive updates on our next podcast episodes.
If you want to read more about this topic, check the Concurrences website where you can find all relevant articles:
- Claire Vannini, Dimitri Guarneri, Foreign investment control: Analysis and practical views on the scope of the French and European mechanisms, August 2021, Concurrences N° 3-2021, Art. N° 101303
- Concurrences Webinar - The EU Foreign Subsidies Proposal, 8 July 2021
- Alec J. Burnside, Marjolein De Backer, The EU Commission issues its proposal to create wide-ranging powers to tackle non-European subsidies which may distort competition in Europe, 5 May 2021, e-Competitions May 2021, Art. N° 100919
Bill Batchelor, Frederic Depoortere, Andrew L. Foster, Giorgio Motta, Ingrid Vandenborre, Aurora Luoma, Niels Baeten, The EU Commission proposes a new merger and public procurement control legislation to combat foreign subsidies, 5 May 2021, e-Competitions May 2021, Art. N° 100984
- Jay Modrall, The EU Commission publishes its first official guidance on the application of the FDI Regulation and states that during the COVID-19 crisis there could be an increased risk of attempts to acquire healthcare capacities, 25 March 2020, e-Competitions March 2020, Art. N° 94031
This podcast series has received unrestricted financial support from Baker MacKenzie. The opinions and judgments expressed by the speakers are entirely their own and do not necessarily reflect those of their institution/company.