Episodes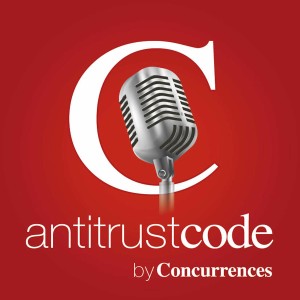 Monday Oct 11, 2021
Monday Oct 11, 2021
In this new episode, Jennifer Baker (EU Policy and Tech Reporter) is interviewing Marshall Van Alstyne (Questrom Professor in Management, Boston University) on good and bad ideas for regulation.
Video available on Concurrences Youtube channel
 Follow us on Twitter @CompetitionLaws and join the Concurrences page on Linkedin to receive updates on our next podcast episodes.
If you want to read more about this topic, check the Concurrences website where you can find all relevant articles:
- Miranda Cole, Katarzyna Sadrak, The EU Commission publishes proposals imposing obligations on providers of digital services and augmenting enforcement powers, 15 décembre 2020, e-Competitions December 2020, Art. N°98962
- Ernesto Apa, Enzo Marasà, Livia Petrucci, Maria Cristina Michelini, The EU Commission publishes a public consultation on the Digital Services Act covering issues such as online safety, freedom of expression and fairness, 2 juin 2020, e-Competitions June 2020, Art. N° 100185
- Jay Modrall, The EU Commission publishes a package of initiatives on Europe's digital future to create legislation on AI and big data, 19 février 2020, e-Competitions February 2020, Art. N° 93847
- Heike Schweitzer, Frederik Gutmann, Unilateral Practices in the digital market : An overview of EU and national case law, 15 juillet 2021, e-Competitions Unilateral practices in the digital market, Art. N° 101045
- Alexandre de Streel, Pierre Larouche, The European Digital Markets Act proposal : How to improve a regulatory revolution, mai 2021, Concurrences N° 2-2021, Art. N° 100432, pp. 46-63

- Frédéric Jenny, Competition law enforcement and regulation for digital ecosystems : Understanding the issues, facing the challenges and moving forward , septembre 2021, Concurrences N° 3-2021, Art. N° 101662, pp. 38-62
This podcast series has received unrestricted financial support from Meta. The opinions and judgments expressed by the speakers are entirely their own and do not necessarily reflect those of Meta, Inc.