Episodes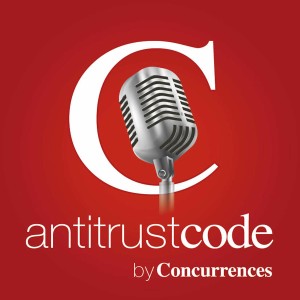 Tuesday Jun 01, 2021
Tuesday Jun 01, 2021
The rise of new types of platforms considerably changed digital markets, revealing new ways to enable interactions, transactions, and data collection.
In this new episode, Jennifer Baker (EU Policy and Tech Reporter) is interviewing Julian Wright (Lim Chong Yah Professor of Economics, National University of Singapore) on the effects of regulation that might prevent natural platform expansions. What should we think of platforms leveraging their core capabilities to expand from their original core business? Is this an (antitrust) problem?
Video available on Concurrences Youtube channel
 Follow us on Twitter @CompetitionLaws and join the Concurrences page on Linkedin to receive updates on our next podcast episodes.
If you want to read more about this topic, check the Concurrences website where you can find all relevant articles:
- Alain Ronzano, Competition policy : Dutch, German and French governments adopt a common position calling for tightening of the Digital Markets Act on the largest platforms and for better coordination with competition rules, 27 May 2021, Concurrences N° 2-2021, Art. N° 101002
- Ania Thiemann, Antonio Neto, Barriers to entry in the digital market: An overview of EU and national case law, 12 May 2021, e-Competitions Barriers to entry in the digital market, Art. N° 100184
- Concurrences Webinar - Innovation Economics Conference for Antitrust Lawyers #4 "Platforms: The Envelopment Strategy" & Closing speech, 6 July 2020
This podcast series has received unrestricted financial support from Meta. The opinions and judgments expressed by the speakers are entirely their own and do not necessarily reflect those of Meta, Inc.